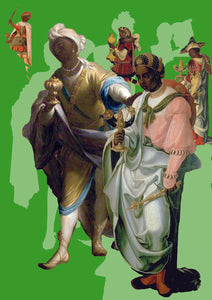 Purchase this poster individually or as part of a subscription and enjoy free shipping and further discounts.

About the artist:
Rosa-Johan Uddoh (b.1993, Croydon) is an interdisciplinary artist working towards radical self-love, inspired by Black feminist practice and writing. Through performance, writing and multi-media installation, she explores places, objects and celebrities in British popular culture, and their effects on self-formation. Rosa was the 2020 Stuart Hall Library Resident and is a lecturer in Performance at Central Saint Martins.
About the poster:
"According to Christian tradition, Balthazar was one of the three biblical Magi and later Saint, who visited the infant Jesus after his birth to offer the gift of myrrh. Depicted since medieval times as a lone Black figure in artistic imagery of the Nativity scene, this King is also one of the first encounters of British children with a Black person of importance. Historically, Balthazar is also a figure through which many of the white painters Old Masters and their patrons first constructed 'blackness', often representing a Black person to a European mass-audience for the first time. 'Let's go, honey' (2021), is a digital collage made up of different depictions of Balthazar, taken from historical paintings. Thinking about the real, Black European sitters for these paintings, behind the Christian symbolism, Uddoh's poster brings these once lone Black kings together in friendship groups on a long march to irreversibly change the West.
How was representation of Black people by white Europeans different, pre-slavery?
How do pictures of Black people shape who we contemporary Black people become?
What stories do we tell in the UK about immigrants?
Do they always have to bring gifts?
Since beginning her research, with the assistance of Nasra Abdullahi, Uddoh has found, catalogued and re-presented around 150 historical 'Balthazars' previously tokenised in 'Adoration' paintings made throughout European history. 'Let's go, honey' is one of a series of studies for a much larger, billboard-style collage, 'Breaking Point', which sees a whole crowd of 'Balthazars' reunited. It is currently on show as part of her show Practice Makes Perfect at The Bluecoat, Liverpool."
 - Rosa-Johan Uddoh
Poster details:
420 x 594 mm (A2)
Digital Print on 230gsm Matt Paper
Edition of 45 (plus 5 APs)